How was your weekend? Let me show you a bit of what we did this weekend.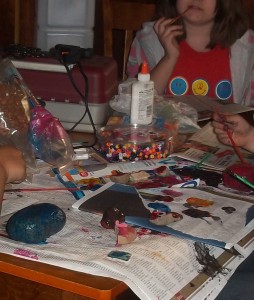 We broke out the paints, and painted rocks! What better way to keep the kids entertained, then with some big rocks, some paints and some….Googly eyes!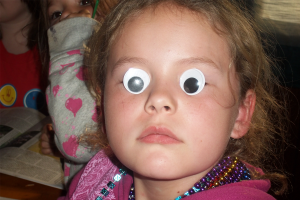 Some one forgot to tell my niece those eyes go on the ROCKS! Silly little girl anyways.
I have to admit it was pretty nice having all my nieces together with my daughter. They got a bit loud, but they had fun, so that is all that mattered. After some rock fun we had a sleep over!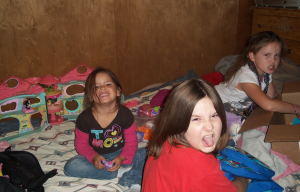 Littlest pests, and squinkies will keep a girl quiet for hours, until you break out the picture of Santa by your tree, and the letter he wrote you. My daughter showed her cousins the letter Santa wrote, and my baby niece started crying, because Santa never left her a picture and letter. She said she guessed Santa liked my daughter more, because she was a better kid!
I have to crack up at my baby niece, she says some pretty funny stuff! I could probably make a whole blog with things she says.
So what all did you do this weekend?