I think the biggest challenge for my family is trying to continue to eat healthy, and pinch pennies!
I laughed at my husband this weekend as we were watching a T.V. marathon of "Extreme Couponing." He started going on and on about how much money we could save, and why did I stop couponing to begin with??
I started to point out to him – LOOK at what they are buying. 200 candy bars, 125 boxes of sugar-filled cereals, 400 2 liters of pop. Yes they are saving a ton of money, but on what? These are not meals for your family for the week, it's not a balanced diet. (NOTE: I am NOT against couponing, however, on a limited budget and even more limited time, right now this is NOT my focus).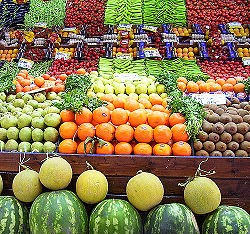 It is not cheap to eat healthy. Produce, fresh meat, is expensive. When I run to the store after work just to pick up stuff for dinner that night I'm looking at spending $40 plus dollars just for one meal! I have realized I need to plan ahead and plan my meals according to sales and what deals I can get.
I found this GREAT website called $5 Dinners – she even includes Gluten Free menu's! She has a cookbook you can order online, and from what I've seen she's got some great ideas. I haven't had a chance to try it out yet – but I will get back to you.
What is your budget dinner meal of choice??
My Goals for the Week:
Drink at least 70 oz of water per day (did OK on this last week – until the weekend that is. Got soo busy, forgot to eat or drink until after 3 o'clock!)
Exercise for at least 30 minutes per day ( again good last week – until the weekend. Though I believe cleaning my house could definitely count as a work out)
Eat healthy well portioned meals for breakfast and lunch, and a normal (well portioned) meal with my family for dinner (again  great last week – weekend's kill me)
Meal plan using some of the great recipes found in the $5 Dinner cookbook