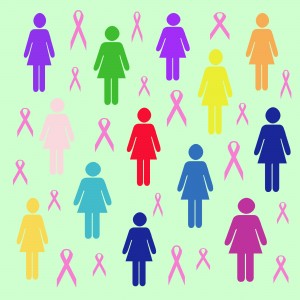 Have you ever thought to yourself, "oh that will never happen to me". Only for something similar to happen to you. This exact reason is why things such as breast cancer usually go undetected. Women feel breast cancer will never happen to them, therefor they never go to their yearly mammograms.
With October being breast cancer awareness month, it is time to come together as women and get the word spread so we can stomp away breast cancer. Remember, breast cancer sees no color.
Below you will find some ways to help better prepare you for not only getting your check ups, but also ways to help to reduce your risks of getting breast cancer. Keep in mind just because you do lead a healthy lifestyle does not mean you will never get breast cancer. So it is still very important to keep those yearly visits to get those boobies checked out!
Chicago Healers Practitioner and Holistic Physician Dr. Marilyn Mitchell, MD offers three positive perspectives to help take charge of your health and protect yourself as far as cancer is concerned:

Physical Health:
– Screen DIY first. Screening is an important aspect of breast health awareness. Begin with breast self exam (BSE), a systematic palpation of the breast performed once per month. Women often ignore their breasts, and a regular self exam can be performed with an attitude of bringing positive energy and appreciation to the breasts.
– Don't forget your doctor. A doctor can offer you a technological breast screening, which should be scheduled every 1 to 2 years. There are several types of technological screenings for breast health:
1) Mammogram – The standard screening tool for detecting breast cancer and benign breast disease. Mammograms are able to detect masses before they are palpable.
2) Ultrasound – Helpful in imaging cysts. This device is usually an adjunct to mammogram, as it does not image solid tumors as clearly as fluid-filled ones.
3) MRI – This is sometimes used as a follow up to mammogram.
4) Thermogram – A screening exam that accesses the heat or thermal changes in the breast (reflecting blood flow). This does not involve radiation or compression of the breast. There is much interest growing around this technology, but it is not yet in widespread use, and the long term data and success at detection is not yet determined.
– Take your vitamins. Certain natural supplements and antioxidants taken on a regular basis can help the body fight off cancerous cells.
– Toss the burnt popcorn. Carcinogens are often linked to cancer, so it is important to distance oneself from carcinogens and other irritants as much as possible. That said, you can have a summer barbecue, but try not to grill out too often.
– Evaluate your risk factors. Do you have a family history of ovarian cancer? Don't wait to find this out before it's too late – knowing this information can help you take the necessary steps to decrease your risk of having cancer.
– Don't forget the basics. Sleep, exercise, and a healthful diet are all building blocks for a healthy life.

Emotional Health:
– Build your support system. Strong relationships with friends and family boost the immune system and lead to a long, healthy life. These people will be there for you to rely on, both in sickness and health.
– Teamwork counts. Encourage friends and family to make healthy changes to their lifestyle as well. This will make healthy habits easier and more fun to adopt.

Spiritual Health:
– Think positively. Surrounding yourself with positive thoughts and eliminating negative thoughts can be very beneficial in eliminating stress. This will significantly affect your well-being for the better.
– Nurture yourself. Self-compassion is a key ingredient to a sound mind and body. Practice self-love by treating yourself to bubble baths, a nice book…things that make you happy.
– Limit your media intake. Overdosing on TV and sensational media can be a source of negativity and stress that you don't need. Think about cutting down on this and replacing the time you would spend watching the news with a positive activity you enjoy.
– Be grateful. Nothing beats negative energy quite like counting your blessings. By regularly thinking about what you are grateful for in life, this will make you in good spirits which is also good for your body.
About ChicagoHealers.com
Chicago Healers (www.chicagohealers.com) is the nation's pioneer prescreened integrative health care network, offering a comprehensive understanding of each practitioner's services, approach, and philosophy. Our holistic health experts teach and advocate natural and empowered health and life choices through their practices, the media, educational events, and our website. With close to 200 practitioners and over 300 treatment services, Chicago Healers has provided nearly 400 free educational events for Chicagoans and has been featured in 300+ TV news programs and print publications. For more information, visit www.chicagohealers.com