When it comes to instilling good habits in your children, it is important to lead by example. Of course, there comes a time in their lives when they will deliberately avoid doing anything you ask them! Still, until they reach those terrible teens, you can help them learn to value their bodies and their health.
While you may be doing all the cooking at home, there is little to stop your loved ones joining in to help. Handling and preparing healthy foods helps to create positive associations with it. Even the smallest of children can help tip chopped vegetables into the mix. It's great fun for them, and they may even be more inclined to eat it!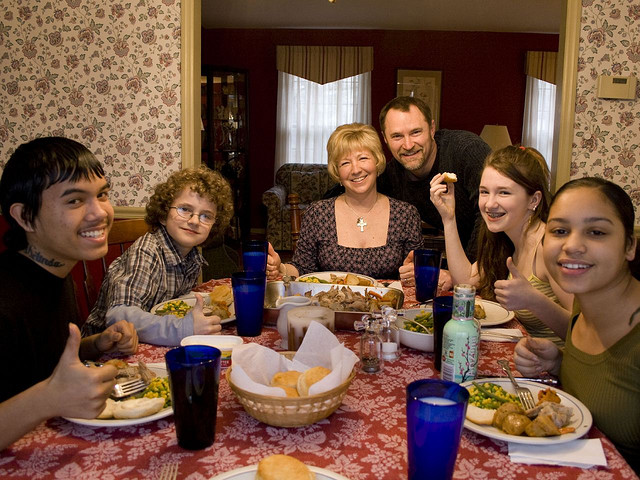 Regular checkups are important for the whole family. Some insurance policies only cover a small number each year, leaving you to pick up the bill for the rest. But this shouldn't put you off regularly visiting the doctor or dentist. Terry Gomez DDS recommends regular oral examinations from toddlerhood. Prevention is definitely cheaper than cure in most cases, so try to keep on top of it if you can. It also helps the kids get in the habit of these visits so they can be comfortable with it for life.
A lot of us can fall into the trap of handing out snack bars, cookies or chips to the kids. In between meals, children can get quite peckish. After all, they are usually more active than us. Fresh snacks help children value healthy options. Fruits and raw carrot sticks can be just as filling for a small child. Many snack bars can provide more calories and sugar than a child needs.
Do you have a gym membership? Most gyms have open days that allow you to bring guests along for the day. If you are a member, why not let the kids see where you work out? Show them the exercises you do, and the way it works your body. It's a great way to get them interested in their own bodies, and how they can build strength for themselves.
If you prefer to exercise at home, why not get the kids involved. Light weights are fine for older children to handle. Children of any age will love doing stretches and movements to music with you. Lead by example. Show them how you take care of your body. It's fun, it's healthy, and the kids will love it too. Perhaps they enjoy certain sports and activities you could get involved with? Tennis, soccer and swimming are great activities the family can do together.
It's important for children to be happy in their own bodies. However, you shouldn't deny the truth that they can achieve fit and healthy bodies by eating well and exercising. Self-image is important to children, especially young girls. Happiness is about being confident and content with who you are and how you look. Being the best you can be doesn't mean you have to be better than anyone else, after all. Look after yourselves and each other.