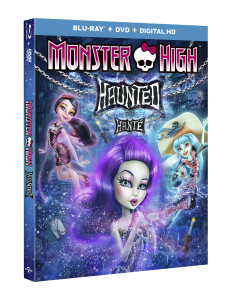 In 2011, my daughter received her first Monster High doll since then she has managed to collected about 50! Yes, 50 it seems everytime I turn around a new doll and a new movie is coming out. I try to sneak a new one in on her every few months. On March 24th, a new Monster High DVD will be hitting the shelves.
If you have a child that loves Monster High dolls this is a giveaway you don't want to miss. There will be 5 lucky readers walking away with Monster High: Haunted, this would make a great gift for any girl that loves the whole Monster High scene.
For the first time, the Monster High ghouls enter a mysterious Ghost World as they follow Spectra and discover an all-spirit school. But their scary-cute student bodies are hardly welcome with the very strict Principal Revenant, and she punishes Spectra with frightful detention chains that prevent her from re-joining Monster High™. Now, it's up to the ghouls to become ghosts themselves in order to save one of their own from disappearing forever! MONSTER HIGH: HAUNTED is available on Blu-ray Combo Pack and DVD March 24, from Universal Pictures Home Entertainment.
Giveaway is open to those in the US 18 years and older, please use rafflecopter below to enter.