Disclosure: I received copies for giveaway purposes, no other form of payment was received.
In 1992, Beethoven won our hearts as the big slobbery St. Bernard, that was in to everything. Over the past 22 years, there's been a total of 7 different Beethoven movies. With the most recent one being Beethoven's Treasure Tail, which was released on Blu-Ray and DVD October 28th, 2014.

Beethoven's Treasure Tail brings that big slobbery St. Bernard, back into our home for a new adventure. In this adventure, Beethoven will befriend a local boy in a small coastal village. Together they will search for lost treasure that will bring the whole town together. If you're looking for a great family movie this holiday season, you will not want to miss Beethoven's Treasure Tail.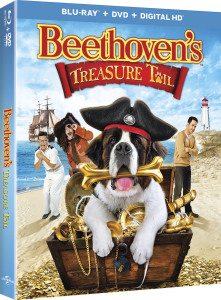 To help get your holiday off to a great start I have two copies to giveaway! Giveaway is open to US readers only, 2 of you will get 1 copy of Beethoven's Treasure Tail Blu-Ray/DVD combo. To enter follow Rafflecopter below, Good Luck! Of course, if you don't want to wait for the giveaway to end, you can purchase the DVD at a store near you!