This weekend is the annual Apple Butter  Festival at Huston Woods State Park in Oxford, OH. The festival will take place at The Pioneer Farm  located at 6924 Brown Road, Oxford, OH 45056.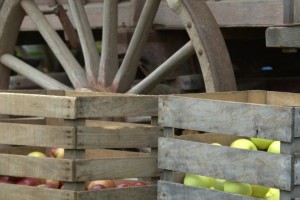 The 49th annual festival is sponsored by the Oxford Museum Association with proceeds going to the maintenance and preservation of its properties (which includes the Pioneer Farm) and educational outreach.
The stirring will take place and the sumptuous aromas will float over the Pioneer Farm at Hueston Woods State Park from 10:00AM to 5:00PM on Saturday, October 6 and Sunday, October 7.
The admission fee is $2.00.  There is no charge for children under 12.
The apple butter contains mostly peeled apples and apple cider.
If you get there early, you might get some warm apple butter.
Visitors are welcome (not to young, though) to come and help stir and can the product.
Kettle corn, funnel cakes, and crafters with goods for sale will be available.
Fresh cider is produced in New Paris, OH by Wesler Orchards
Food Concessions by Charlie's Grilling Service will be serving fried chicken, pulled park and the famous "Oinker", a loaded baked potato.
Music will be provided each day.  On the first day, Nashville recording artist David Wayne will perform traditional country music from 2:00PM to 4:00PM.  On Sunday, the Jericho Old Tim Band, from Oxford will perform a mix of American roots music.  Judy and Warren Waldron of the Rabbit Hash Sting Band, Dale Farmer, Amy Clay, Susan Pepper and Jonathan Bradshaw will play an assortment of fiddles, banjos and guitars, performing ballads and harmony.