We were lucky enough to see a screening of Finding Nemo 3D this past weekend.
It is hard to believe that the original was released almost 10 years ago. My daughter wasn't even a year old yet; And now I was able to take all 3 of my children to see it on the big screen.
The magic of the movie hasn't changed – it's just better if it's bigger! =)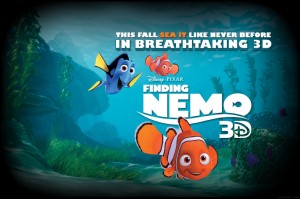 They also came out with a really cool app the Finding Nemo 3D  Scavenger Hunt
Nemo and his friends have gone missing, and it's up to you to find them! Dive into a Facebook scavenger hunt to find Nemo, Dory, Crush, and all of your favorite Finding Nemo friends, and unlock buried treasure along the way. If you need a little help, you can ask for a hint from your Facebook friends.
Disney never disappoints.  Don't forget to buy your tickets for this weekend!