Fall is my absolutely, positively most favorite season of the year. Out come the jeans and hoodies, the fall festivals, the leaves are changing colors, and the weather is just right.
I have already started on my 'fall decor' for this year, and thanks to my Pinterest board, I have all kinds of new ideas (and recipes!)
Here is a simple way to add some fall flair to your home.
Just empty out a pumpkin, and drop a small enough flower pot in – VIOLA! Add a ribbon for flair if you'd like, but I think it would look just as cute without. This would look great as a centerpiece, or on your porch!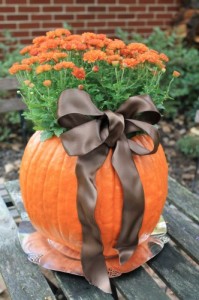 THIS idea is awesome as well. I hate the way my empty, dead flower pots start looking once the cooler weather hits. It seems soo drab and ugly. This is a great idea to give it some flair. I think fake pumpkins would be your best bet so you can use them year after year, but real would work too. Use a stake to put down in your pot, and slide each pumpkin on (this will keep them from tipping because of crazy kiddos, or weather), you can add your lettering and ribbon as you desire. I will post my picture as soon as I'm done. I'm excited to show you my new 'fall porch'.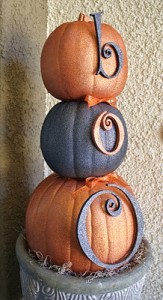 I'm kinda' excited for Halloween this year because my youngest is now in preschool. Which means all the kids bring in something for their Fall Party. In the past I wasn't very DIY, and I was pretty busy with 2 young daughters'. But they are older now, and I have a bit more time to concentrate on being creative.  I have quite a few ideas, but here are some of my favorites. I think any preschooler would LOVE these: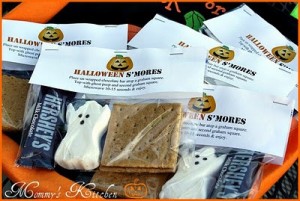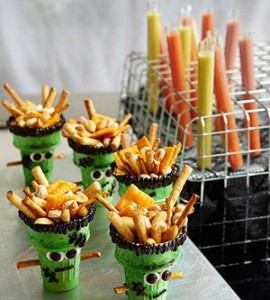 This next one is pretty simple: Clear plastic cups, vanilla pudding with green food dye, and crushed Oreo's on top!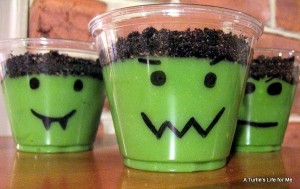 And of course, the healthy option. I actually have thought about handing these out on Halloween nite. The kids are getting plenty of candy, so maybe a bit of fruit would be a good idea.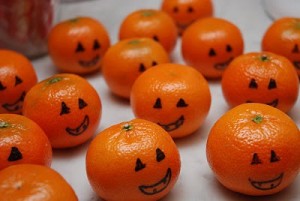 Do you have any great fall/Halloween ideas? Post them here and we can all share!