UPDATE: It was brought to my attention the ink disappears after awhile, I reached out to the reps, and got the tip to make it reappear! Place in the freezer for awhile, and the ink will reappear.
I am what one would call an ink pen hoarder! I love ink pens, and when I am at the bank or the doctor's office if I like the way the pen writes, I will ask if I can keep it! Yes, my obsession with pens is that bad. So when asked if I were interested in reviewing the new FriXion erasable ink pens by Pilot, I had to say yes. We were sent samples of the G2 gel Ink pens, FriXion erasable Ink pens, and the eco-friendly recycled B2P pen!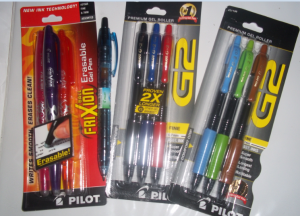 When the Pilot ink pens came in the mail for review I had to check out the FriXion erasable ones. I wrote my name and erased it; both my husband and I were in awe. He took to twitter telling everyone how awesome the pens were, and started to show it off to his friends. I had to show our daughter this neat line of pens, and let her know she can now use the pretty pink one when it comes to schooling.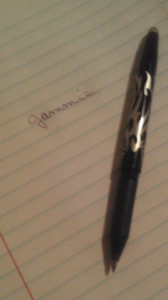 When my daughter tried it out for herself, her words were … "Wow" then she had to look at the eraser on it and her response was… "It didn't even mess the eraser up!" Of course, she has to keep playing with it, and since she is a smart kid, the next question she had was… "I wonder if any hard plastic would work." Therefore, to ease her curiosity, we grabbed the cordless phone, and used the antenna to erase the ink. Sure enough it worked.
With the special gel ink, the marks disappear with friction, hence the name of these awesome pens! This is one pen we will be using for schooling!
Then we have the eco-friendly recycled B2P pen. B2P stands for Bottle2Pen. Yes, Pilot has taken recycled bottles and turned them into ink pens! These neat little pens are made with 89%-recycled products, and they don't smudge. I love how they resemble a water bottle!!!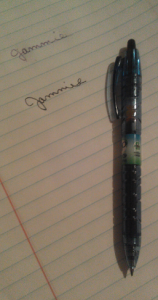 With our Planet desperately needing the help of all of us to save it, I love how big companies are also stepping up to do its part, in saving the Earth. Small things will make a big difference.
We were also able to check out the G2 pens, I found all to write very smooth, and I have already stashed them away so my family cannot try to snag them from me! I did give them a few so they have no reason   to come try to take mommas!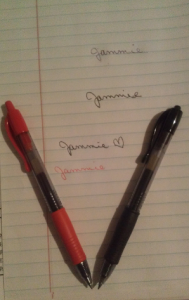 When school goes back into session every year I like going to Wal-mart and stocking up on the pens, because it seems like I go through them a lot! You can purchase Pilot products at stores that carry office supplies. Prices will vary on all products.
I received product for review purposes only no other form of payment was received.