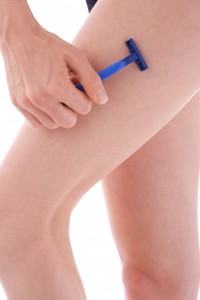 How many of you try to save money by grabbing your husband's shaving products when you needed to shave? As females we are always trying to find away to help save money in our households, and if it means grabbing for our husband's shaving cream we usually don't think twice. I mean have you priced the shaving cream for women? I have and it seems like everything we need cost a fortune.
Recently, I have started to notice something though, I decided to treat myself to my own razors and shaving cream, and my legs have thanked me. While using my husband's products I would always get nicks, one time I was done shaving went to leave and noticed my leg was nothing but a bloody mess. I honestly thought all these cuts were due to me trying to shave rather fast.
However, it wasn't. It was due to the fact men shaving products are not intended for us women! Although, we seem to think we are saving money by reaching for our husband's shaving products we are not. Let me explain why, #1 although our shaving cream may cost $2.99 a can, in all reality we are using less than the amount we would use from our husband's .99 cent can. The more we use from his can the more we have to purchase for him! Not only that shaving cream for women is better for our legs. I noticed when I use my own shaving cream my legs are a lot softer.
I also noticed with the razors, not only does my husband's cut my legs all up, they also don't last as long. So in all reality we are paying more to use our husband's shaving products rather than just purchasing and using our own. So that is why you should NOT use cheap shaving products.
I am participating in a blogger campaign by Bucks2Blog about shaving cream and was compensated. However, the views and opinions are my own.