The leaves are falling, the air is chilly and Halloween has come and gone. The holiday season has arrived. Thanksgiving is on November 24th and will be here before you know it! No need to panic. A little bit of pre-planning will make your holiday run much more smoothly (especially if your in-laws are coming). Whether it's your first or fiftieth time playing hostess, you can benefit from these easy tips on preparing your home for Thanksgiving guests.
Decorating for the Season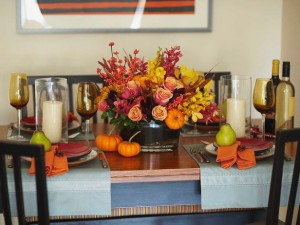 Autumn weather may be chilly, but your home should radiate warmth during the holidays! Create a cozy atmosphere and tempt all five senses without spending a fortune with these fall decorating ideas.
Bring the bold colors of autumn indoors for all to see. Flowers are inviting and keep your décor looking fresh. Try an arrangement of bright yellow sunflowers, deep orange mums or delicate gold alstromeria. Nothing helps beat the chill of a blustery fall day like a warm fire. Simply throwing a few logs on and hearing the gentle crackle and pops of the flame will make your home feel instantly cozier. If you want the same effect but don't have a fireplace, try lighting a wood wick candle. They crackle and flicker without the added heat!
Texture always adds depth and interest to a room. Consider tossing a few throw pillows on the couch. Textiles like tweed, flannel and wool are made for fall weather! Keep your room warm with soft chenille blankets and wraps on the sofa or chairs. Keep the house smelling great by boiling water, cinnamon sticks, cloves and nutmeg over the stove. Together the spices warm the home and make it smell like the holidays. Or instead of boiling the ingredients, you could use them to bake a delicious pie- and then eat it afterwards!
Accommodating Overnight Guests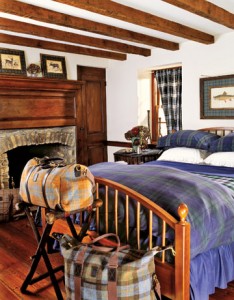 Thanksgiving is all about spending time with loved ones. For many of us, friends and family from near and far come together for the holidays. If you have overnight guests staying in your home, these tips will help both you and your guests feel at ease and comfortable during their stay.
Make sure there are clean sheets on the guest beds and fluff the pillows. Having a cozy bed to sleep in is an inviting prospect after a day spent traveling. Throw an extra blanket on so they can beat the chill. Give your guests some room to unpack. Clear out a couple drawers and make room in the closet. A luggage bench will give them somewhere to unpack. Be sure to stock the guest bath will necessities like clean towels, soap, TP, and cotton balls. Even the most meticulous will forget something.
Keep your guests up to date with the goings-on in your home. Let them know what to expect during the week, or if you have any prior engagements during their stay so they can plan accordingly. Set them up with a spare key or the garage door code so they can come and go as they please. Show your guests where the coffee cups and cereal are, set out some good books or magazines and make sure they feel at home in your home.
Creating an Unforgettable Holiday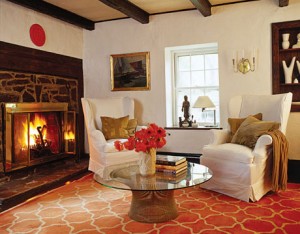 As much as Thanksgiving is about family and friends…it's also about the food! Thanksgiving dinner just wouldn't be the same without roast turkey, stuffing and pumpkin pie.
If you're inviting a friend who can't be with his or her family this year, do something special for them. Ask for a family recipe and serve it on Thanksgiving to give them a piece of home. If you've never cooked Thanksgiving dinner before it's a good idea to test out some of the dishes before the big day, just so you don't wind up eating take-out because your turkey caught fire!
Create an elegant tablescape by layering warm, rich colors and fabrics on your table. Polish the silver, use cloth napkins and break out the good china for this special occasion. Arrange a centerpiece using candles, flowers or mini pumpkins and gourds to celebrate the harvest in an elegant setting. Set up the kid's table as a mini adult table. Use the same colors and decorations, with less breakable plates and glasses.
Keep these tips in mind as you start gearing up for Thanksgiving. Just a little preparation can help your holiday run without a hitch.
This post was written by Erie Construction. Follow Erie Construction on Twitter for home improvement tips.

Photo Credit: Table-HGTV, Living Room- House Beautiful, Guest Room- Country Living