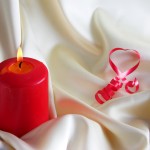 How many of you go out of your way on Valentines Day for your special love? Every Valentines here I make it a special one, I purchase lingerie, and get the candles out. Splash the room with his favorite fragrance, make him his favorite meal, and kick the daughter out of the house for the night.
How many purchase special Valentines lingerie?
I think having something new and exciting to wear brings back that spark. We are often stressing most the time about silly things, so when we throw in a little new in the mix it re-kindles our love. Marriage takes a lot of work, and I view this as the work to keep my marriage going strong.
Without the extra excitement I think many marriages would fail. If you don't usually do anything special for your loved one on Valentines Day, I suggest you try something new, even if it is a candlelit dinner. Show your husband how much you appreciate everything he does for your family. He deserves it right?
What are somethings you do, to show your husband he still puts that spark in your eyes, and that he is the best husband you could have ever asked for?
I do small things, but the small things are the ones that have the biggest impact on him.